If you would like to know how to earn money from youtube you have come to the right place because you will get a fair amount of information today regarding the money-making process of youtube.
Making money from Youtube use to be rather as simple as uploading great content, gathering millions of views, and earning a part of the advertising revenue that is being shown on your videos. Fast forward to now content creators have access to a multitude of ways to monetize their work.
Along with advertising you can do affiliate marketing, merchandise sales, corporate sponsorships from big companies, etc.


How to earn money from Youtube
While it is certainly possible to make significant income from your youtube channel as a content creator, it cannot be said that it is easier as there is 500 hours worth of video content is being uploaded each and every minute on youtube platforms across the world.
If you came here searching for ways on how to earn money from youtube The statistics may make you anxious and yes the competition is pretty intense, thus making a lot of money becomes equally challenging.

But if you are on the right track and focused it is not hard either you can work on some strategies to make it work for you yourself and see how do you make money from Youtube?
1. Join the YouTube Partner Program
The most considerable approach to how regular YouTubers get access to special features on the platform is through the Youtube Partner Program.
It is not necessary to be earning money from youtube you have to need to be a partner on youtube( If you just set up your Adsense account and getting a good amount of views the monetization part is being taken care of) but being a part of Youtube Partner Program certainly makes it a lot easier.
Through Youtube Partners you can have access to multiple income streams: not video ads alone, but features like youtube premium subscription fees, and options for your loyal fans to directly super chat, go for channel memberships and check out the merchandise shelf, etc.
2. You can sell your own merchandise
There is a wide range of products to sell online that can help you make money from your youtube channel. Selling exclusive merchandise- like t-shirts, Tops, Towels, School Bags, Shirts, Hats, Backpacks, you name it has a ton of monetizing value.

So many people ask me how to earn money from youtube and this is one of the most recommended method from my end.
The merchandise also increase your brand value by putting your exclusive brand out in the market it pushes your personality out into the world and creates a stronger bond between you and your fans out there as they express they are legit fans of your work and what you are doing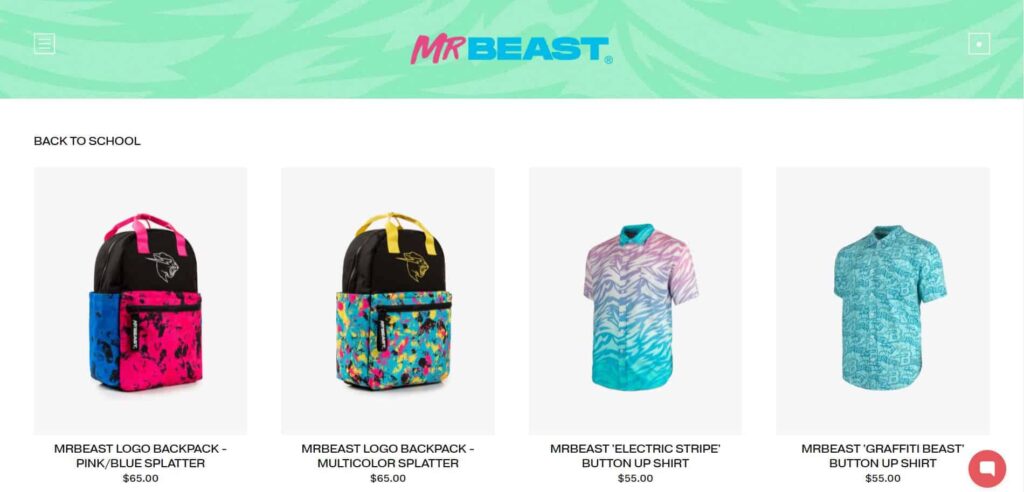 MrBeast a.k.a Jimmy Donaldson sells a wide range of merchandise in his online store under the brand name "MrBeast" at shopmrbeast.com.
Selling your brand is pretty easy once you have a loyal fanbase.
You can use freelancing websites like Fiverr to design your products like T-shirts, etc.
And on the part of shipping and handling you can integrate your store with any of the services like Oberlo or any recommended print-on-demand service providers as they can take care of shipping, handling, fulfillment, and customer support, it is just like taking the full-fledged benefit of a dropshipping business model where there is little to no effort from your end isn't it amazing.

So in case, you wanted to know how much money does mrbeast have this is just one stream of his multiple income sources and he is getting even richer by day through Youtube if you anyhow wanted to know how to earn money from youtube this is certainly one of the best ways.
3. You can create sponsored Content
It is not necessary that you have to be on Instagram to be an Influencer. The benefit of creating sponsored content gives you the liberty of just working for yourself here you do not have to give a share to youtube from what you typically make.

You have the option to negotiate directly with the brand and they pay you directly. Isn't it a great way for Youtubers to make money and definitely a popular one?

If you are able to offer brands good exposure through a large and engaged audience-and your content is relevant to what their target market is they will be more likely to endorse your content and collaborate with you.
4. Partner with brands as an Influencer or Affiliate
If you are searching for the best ways regarding how to earn money from youtube this is hands down the widely profitable way to do so if your youtube audience is loyal and engaging, but it is rather less in terms of size you could start on a good note with affiliate marketing.
Youtubers who are affililated with businesses encourage their viewers to check out a particular brand's online store or a specific product pages. In this way they can get the percentage of the sales made through their affiliate links.
In Affiliate marketing the youtubers themselves do not have to worry about creating, marketing, or shipping the product to the customers all those things are taken care by that brand but it is widely considerable because without breaking a sweat they earn good commission out of it. So the model is a win win both for Youtubers as well as Brands.
5. Licence your content to the media agencies
If your video becomes viral or even kind of semi-viral and appeals to the mass- say a funny clip doing random stuff- you can license your content for that you can get money.
Various sources like TV news, online news sites, daily timing shows, and other creators might reach out to you about the rights to use your viral video to be featured in their channel or medium.

So if you wish to learn how to earn money from youtube there are chances you could make this happen if you're lucky enough and consistent.
Further more you can list your videos in marketplaces, like Juken Media, where your content will be avaialble to get by the right people to be purchased.
Conclusion
As discussed in the post how to earn money from youtube it is evident that it is certainly not easy to make money on youtube. However even after knowing all the challenges people are able to attract and grow a large number of loyal audience and are making substantial income with youtube.
If you keep yourself organized and learn and improve as you go towards making good content and provide value to your viewers it will grow a loyal fanbase for you and they will engage at the same time it is crucial to make a connection. If you clicked on the post reading how to earn money from youtube I would like to clarify one thing that it is not one of those get rich quick scheme.
But if you are willing to learn on the daily basis it will certainly give you benefits in the long run.