Before coming to the final conclusion as to which is the Best Text to Speech Software there were so many softwares we had to go through, to make sure what are the goods and the not so good on any given software.
The Demand for Text-to-speech softwares and solutions has grown so much these softwares offer a seamless and effective way to read textual format documents from smartphones and computer systems. They provide a high level of convenience to the readers both for personal as well as professional uses.
Text to speech tools are also extremely helpful for the people who find it hard to read like the visually impaired and people with learning disabilities such as dyslexia. The software also assists people so much in learning to speak a particular language and supports them in overcoming the language barriers.

There use to be very detailed process included back in the days where traditional professional dictation and transcription services, were being used for the text-to-speech tasks, and now the text-to-speech marketing has become far more efficient and ordinary feature of everyday life.
In our list of best text to speech software we have included good softwares and also while searching for the best text to speech software we realized the importance of these softwares and why these are more commonly used the text-to-speech software is also popular in business environments and organizations, with more and more people utilizing it to improve the productivity, especially when it comes to text to speech softwares.
What is Text-To-Speech Tool?
Before we actually explain to you about the best text-to-speech software it is also important to know what are text-to-speech softwares these softwares and tools are basically assistive technology capable of reading digital text.

This technology is also referred as "read aloud" tech. TTS(Text-to-Speech) reads words on a digital device like a smartphone, tablet, or computer with just a touch or a click and further converts the same text into a speech or audio format.

It does the task of reading different text formats such as PDF, Word, Doc, Pages, etc., and it works very easily on various digital devices.
List of Best Text to Speech Software
Here's the list of popular text to speech tools:
Murf
Speechelo
NaturalReader
Linguatec Voice Reader
VoiceDream Reader
Amazon Polly
Wideo
ReadSpeaker
Watson
NoteVibes
Let's Go Through Best Text to Speech Software
1) Murf
Murf is one of the best and powerful software it is equipped with ability to create voice-overs for e-learning, making videos, and presentation.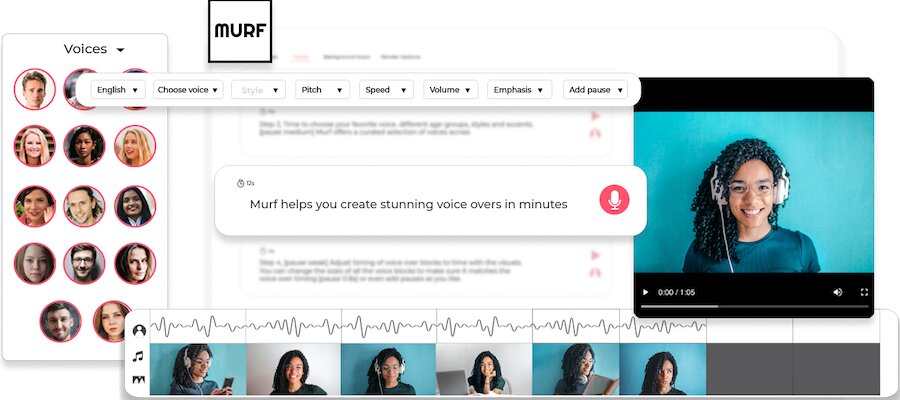 Murf is basically a text-based voice-over generator. You can type in your written script or you can also upload your voice recording into the tool and it converts it into hyper-realistic AI voice. Murf gives the output in voices that sound great because it provides the voices based of off professional voice-over artists. It also analyzes the voice for multiple parameters. Murf is a ready software that can be taken into use if you require to represent the brand, product, advertising, business, presentation and much more.
Features:
With Murf you can generate voice-overs directly from the text. It also lets you convert your voice into editable text and furthermore you can edit it like a word document or you can convert it into AI voice.
Murf studio has the option to sync the time of your voice-over with the visuals.
Murf offers more than 100 realistic voices across 19 different languages.
Murf offers the feature of adding pauses, changing the speed of the audio narration, emphasis, etc.
If you are an organization looking to create voiceovers at a substantial rate, Murf also provides advanced team collaboration features, access control, pronunciation library, and SLA.
It contains various other facilities like checking the script with grammer assistant, adding free background music, trimming videos and music, and so much more.
Verdict:
Murf is a good platform to create and add voice-overs to your media quickly. It is also easy to use and super-friendly for beginners. It offers a lot of features that include editing of the voice-overs.
Price:
Murf offers the solution with four different pricing plans i.e. Free, Basic($13/month), Pro ($26/month), and Enterprise ($83/month onwards).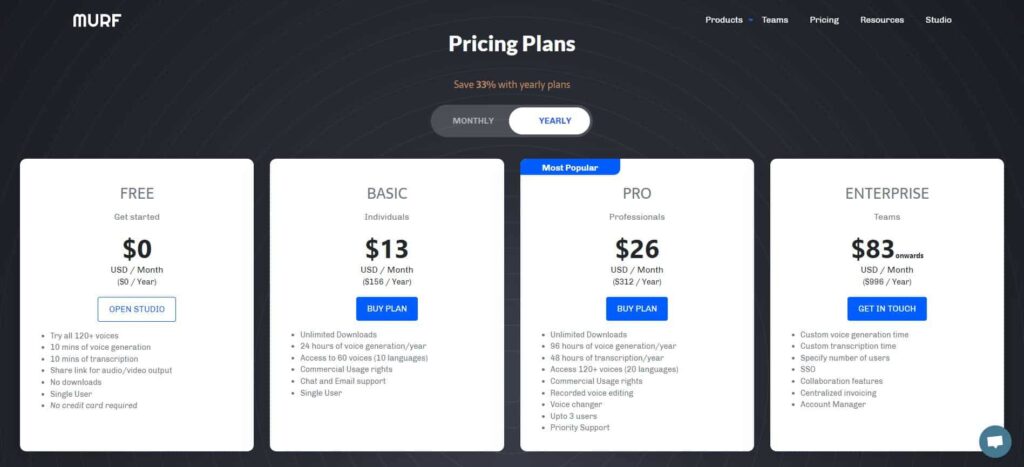 2) Speechelo
If we talk about the best text to speech software and do not include Speechelo it will not be worth it, as Speechelo is one of the most wonderful software it is a cloud-based tool to create amazing voiceover.
You can also read through Speechelo reviews that Speechelo provides the very real-sounding voice sounds with all the human expressions. This makes the voiceovers more and more engaging for the users and people who listen to it. Speechelo is proven to work great for making sales videos, training videos, educational videos, etc. It also offers benefits like breathing and pauses and voice tones, changing of speed and pitch, support for 23 languages, etc. which makes the software really worth it.
Features:
Speechelo's text-to-speech engine can add specific inflection to the voice.
It has over 30 different human-sounding voices.
It has male as well female voices.
It is compatible with almost all the popular video making softwares out there like Camtasia, Adobe, Premier, iMovie, etc.
It has three tones to read the text, normal tone, joyful tone, and serious tone.
Verdict:
Speechelo is highly recommended because it can be used with any video-creating software. It is very easy to use, just create the voiceover, download it in mp3, and import it into the video editor. It is certainly the best text to speech software.

Speechelo lets you convert any text into the best human-sounding voiceover in just 3 easy clicks. You will get a 100% human-sounding voice. It supports English along with other languages.
Price:
There is only a one-time payment option and there is no monthly fees or subscription. Speechelo is available as a one-time-payment solution. It offers an amazing 60-days money-back guarantee. Now the current price for the software is $47 (Discounted price)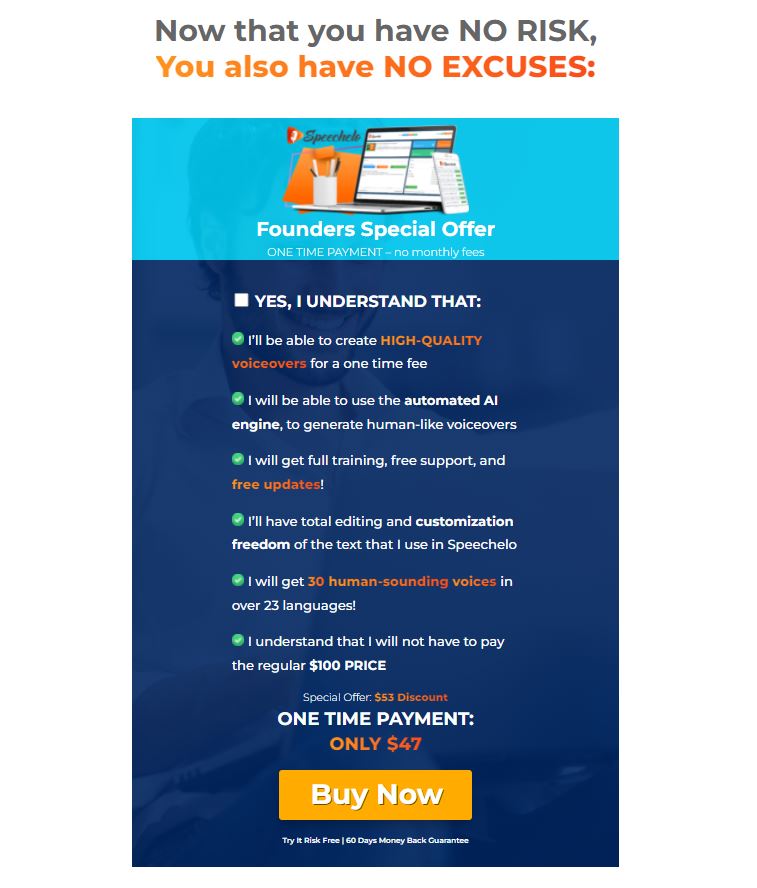 3) NaturalReader
The Natural reader is one amazing software which is great for personal use and learning, especially for the dyslexic readers and for the people who are learning foriegn language.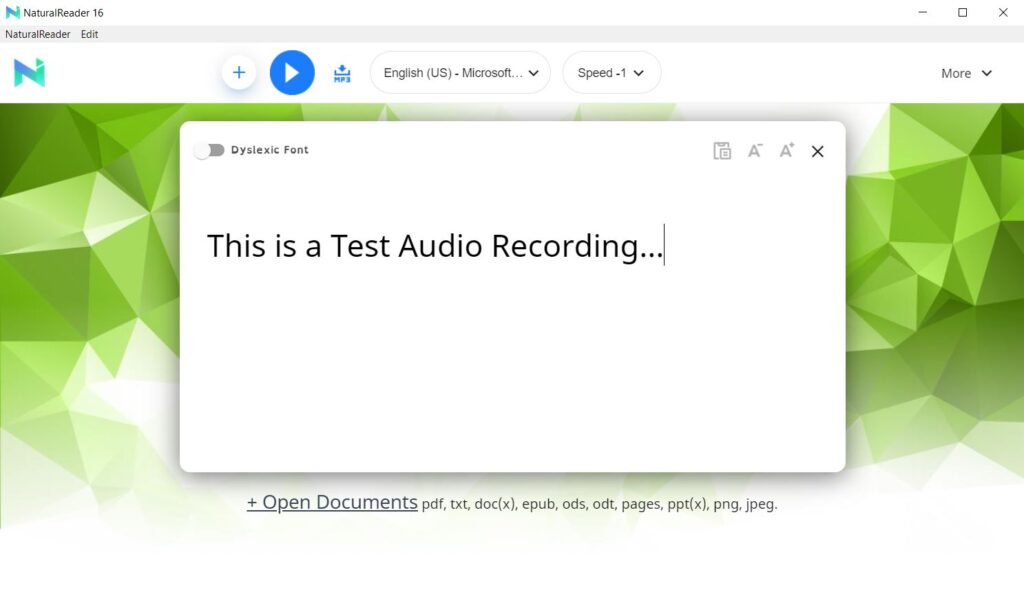 The natural reader is one of the best software out there for a text-to-speech purposes that offers some really exciting offers even in the free version. The interface of the software is really praiseworthy it is very simple and intuitive navigating through the options is really a piece of cake.
You can get started just by loading your documents directly onto the library.
What is more fun is that the tool allows you to manage multiple files across variety of formats. Lastly, the in-built OCR enables you to upload photos or scanned texts and it will read it aloud for you.
Features:
Built-in OCR
Supports a range of files
Wide file support
Multilingual
Dyslexic-friendly font
Easy Interface with Choices
Verdict:
A free text to speech tool that offers OCR as well as a decent in-built web browser; is commendable and absolutely ideal for personal use.
Price:
Free Version
Personal plan $99.50
Professional $129.50
Ultimate $199.50
Visit Official Website=>
4) Linguatec Voice Reader
The Linguatec Voice Reader is certainly one of the best software for the people who wis to learn to speak a foreign language.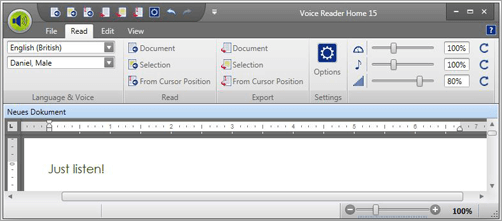 Linguatec Voice Reader gives you everything you need to convert the texts into some very high-quality voice recordings automatically. The Tools is designed very intentionally to support the needs of the private users. It offers a collection of rich improvised and clearly natural-sounding voices.
Linguatec has number of voice and languages to select form to offer the users with a wide variety of accents and pronunciations all at one place. You can also convert your text documents like ebooks, emails, as well as the PDF files into audio and furthermore you can hear them directly on your phone as well as in your computer.
Features:
Dynamic changing between male to female voices.
Customization in voices through pitch control, volume, and speaking speed.
Pronunciation correction through user dictionaries
Faster conversions and swift response times
Price
Free Demo
Voice Reader Home 15: $54.67
Voice Reader Studio 15: $556.73
5) Voice Dream Reader
There are ton of text-to-speech softwares out there available for mobile devices as well and Voice Dream Reader is one of the prime example of that.

Voice Dream Reader can convert documents, web articles, PDF, Plain text, Web pages, into natural-sounding voices and speeches.
The app comes loaded with 200+ built-in Voices across, 30 Languages, which include languages like English, Arabic, Bulgarian, Catalan, Croatian, Czech, Danish, Dutch, Finnish, French, German, Hebrew, Hungarian, Japanese, Greek, Italian.
It could also be so useful if you wish to get the software to read the list of articles while you are driving, or if you are at work, exercising, and there is also an auto-scrolling feature, full-screen option, and more options like distraction-free modes to help you concentrate more. Voice dream reader can also be used with cloud-based platforms like Dropbox, iCloud, Google Drive, iOS file browser, Pocket, Instapaper, Evernote, Gutenberg, as well as Bookshare.
Features:
36 Built-in voices
Multilingual
Integration facility with cloud Solutions
Universally Accessible for Blindness, Low vision, Dyslexia
Price:
The Voice Dream Reader available in US App Store $9.99
6) Amazon Polly
If we talk about the best text-to-speech software Amazon Polly surely deserves to be on the list, Amazon Polly is a highly intelligent text-to-speech system which is offered by Amazon.
Amazon Polly is capable of effectively converting text into human like speech, which users can use to create interactive apps that can talk. Polly's Text-to-speech uses a deep learning to synchronize natural sounding voices.
The API also offers the NTTS (Neutral text-to-speech) to provide the best quality speech. With the help of Amazon Polly, you can do tasks like redistributing and storing speech, real-time streaming, control, customizing speech output at a very low cost.
With the help of Amazon Polly, you can do tasks like redistributing and storing speech, real-time streaming, control, customizing speech output at a very low cost.
Features:
Natural sounding voices
Option to Store & redistribute speech
Real-time streaming
Customize & control speech output
Low cost
Verdict:
Amazon Polly is one amazing text-to-speech platform where you can work with live streaming in real-time this feature makes it different from the competition and since this tool uses deep learning it is so much easy to create apps that turn text into speech through Amazon Polly.
Price:
Amazon Polly's Standard voices are priced at $4.00 per 1 million characters for speech or Speech Marks requests (when outside the free tier). Amazon Polly's Neural voices are priced at $16.00 per 1 million characters for speech or Speech Marks requested (when outside the free tier).
7) Wideo
Wideo is one such easy tool that lets you convert your text to speech that is pretty straightforward and fast.
Write the text directly into the box or you can upload your text file, there are multiple options to choose from the voices, you can define the speed, of the voices and start listening to it.
Wideo is also amazing due to the fact that it is the best option for downloading the voices in mp3 format. It is FREE and effective to use and it is also massively helpful in creating an tutorial or demo video where you can also add voiceovers in the video with the help of this text-to-speech tool.
You can integrate Google text-to-speech through Google API, but here you need to pay for the number of characters used. Wideo integrates the Google Text to speech system and it does offer you FREE speech option.
Features:
Exceptional Video editing features
Read Text Aloud
Free Text to Speech Features
Downloadable MP3 files
Verdict:
Wideo's free text-to-speech ability gives professionals a helping hand to let them create catchy and amazing voiceovers.
Price:
Free
Basic: $19/month
Pro: $39/month
Pro+: $79/month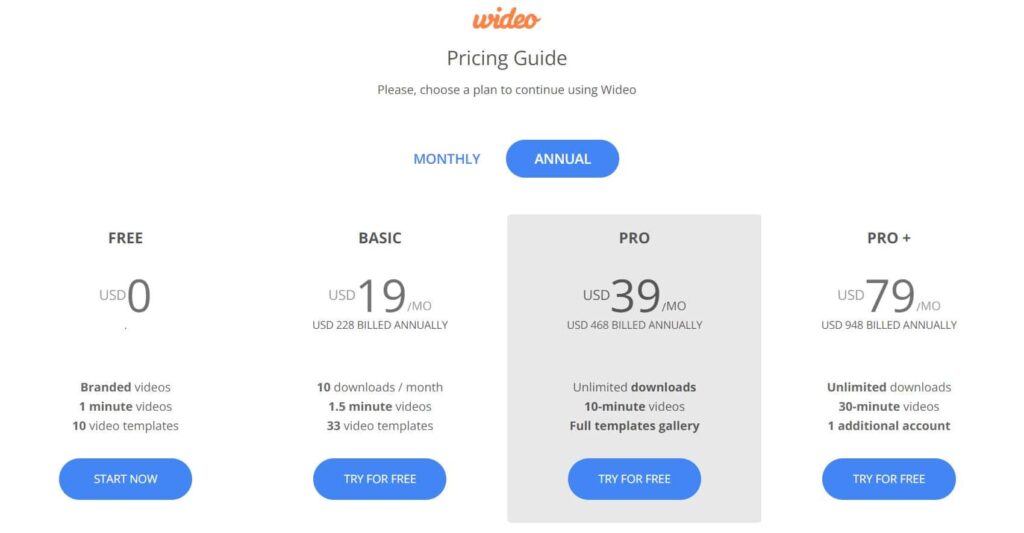 8) ReadSpeaker
ReadSpeaker lets you integrate your products in the market with voice systems. Select your desired language and voices.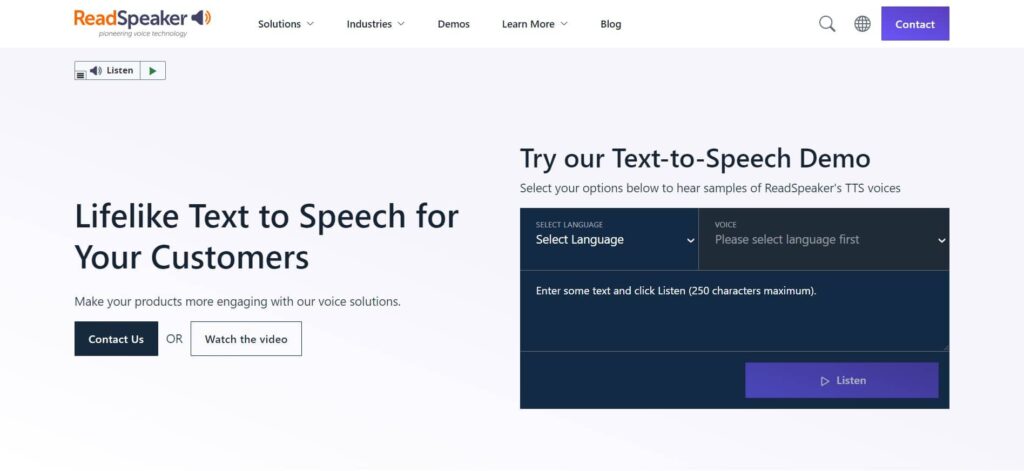 You can select your desired language and voice, for this you can type in your message or paste any text, you can also listen to the text just by clicking on "listen."
Furthermore, you can also add the speech to your apps and websites to make the content more interactive and effective for the audience. It helps in converting the audio files into amazing real and natural-sounding voices. Which can be extensively used for IVRs, Robots, Notification systems, Public announcement systems, etc, with the help of this amazing text-to-speech platform.
Features:
This TTS tool provide Simultaneous Highlighting.
Read the content in 50+ languages along with 200+ voices.
MP3 Download
Enlarge text
Verdict:
ReadSpeaker is one amazing software with many solutions for quickly adding specifically tailored and natural-sounding voice interaction in every environment. Which can be widely used in veriety of platforms it is absolutely worth it.
Price:
FREE 14-day trial
Basic: $4.90/month $49/per year
Complete: $8.90/month $89/per year
9) Watson
Watson Text to Speech comes in handy when you wish to convert your text into natural-sounding voice speech in so many different languages.
This API cloud service also helps you in converting your written text or any given content into good quality speech with the help of Watson Assistant and an existing application.
The Watson software can be used to give stunning voice interpretation that could surely improve the customer experience and their engagement rate by improving the interaction with the incoming users in their language. It greatly helps the companies and organizations with so many solutions like improving users' experience, supporting and refining the contact resolution mechanism, etc.
Features:
It offers Natural-sounding neural voices & Custom voices
Customized word pronunciations with clarity
Voice transformation
Verdict:
Watson is certainly a recommendable platform for your text-to-speech conversion needs because of its features like natural clear and neutral sounding voices and custom voices. It does also provide customized word pronunciation with clarity enhancement.
Price:
Lite: FREE 10,000 characters per month
Standard: $0.02 per thousand characters
Premium/Deploy Anywhere: for Unlimited Characters
10) Notevibes
Notevibes is best for personal usage and learning, as well as for commercial Youtube, broadcasts, TV, IVR voiceover, and other businesses.
Notevibes is one amazing text-to-text speech software that offers a free version, as well as a fully feature-packed paid version also. It gives users around 500 characters of translation; at the same time, it also allows its users to customize the pronunciation too.
So, users have full access to the tools and everything they need to understand a new language and greatly improve their reading comprehension. Above that, Notevibes also offers 177 unique voices that speak in 18 different languages.
What the users love about Notevibes is that it helps them with their pronunciation. As the tool provides a large variety of features, users across the platform can take benefit from it.
Features:
Realistic voice generator
Read Text Aloud
Save Your Audio as MP3
47 Natural Voices
200-1,000,000 Characters

Verdict:
From taking it as personal use for micro-projects to commercial applications like voiceovers for TV, Youtube, and Broadcast, the tool offers everything, thereby making it the best-suited tool for text-to-speech.
Price:
Limited Free Online Usage
Personal Pack: $9/month | $107/ year ($9/month)
Commercial Pack: $90/month | $1080/year ($90/month)
So this was the analysis and comprehensive list of our Best Text to Speech Software for 2022 stay connected with us for more money making opportunites and reviews.
What is Text-to-Speech software?
Text-to-speech (TTS) is a technology that helps in reading the text aloud. The output generated through TTS platforms is computer-generated, and we can also control the speed of reading by speeding it up and down. With the help of TTS software you can generate audio speeches that can be used in IVR, Commercials, Public announcement systems, and apps.
How can we use Text to Speech software?
There is a number of ways that you can use Text to speech software. Some tools give you the option to upload the documents then the software fetches the text from the document or an online webpage and it reads it to the users. Other tools give you the flexibility to convert the hand-written text into speech using advanced technologies like (OCR) Optical Character Recognition.
Are Text-to-Speech platforms free?
There are a number of text-to-speech software out there that offer free versions as well and you can use them as per your preference however, there are always some limitations in features if you are using them for free. This is why eventually people prefer to go for the paid or professional versions.
How does text to speech work?
There is always a distinct similarity in the way that all the text-to-speech solutions work because ultimately their primary task is to convert the text and articles into speech. Users usually upload their text file or file they wish to convert to voice. After that, they choose the given voice options that are available to them and they can choose accordingly.
So many TTS platforms rely on some sort of OCR technology. OCR precisely helps in differentiating the written and digital text and extracting it from the documents and images.
Affiliate disclosure: In full transparency – some of the links on this website are affiliate links, if you use them to make a purchase we will earn a commission at no additional cost for you (none whatsoever!). Will this be a problem? This is how we manage to create free content for you.Please know that your trust is so important for us. If we recommend anything, it is always because we believe it is worth exploring. 
Read More-